So. San Francisco Scavenger Co. #1
The 4R Learning Center for Children at South San Francisco Scavenger Company is undergoing a complete re-design.
The Goddess of Garbage created the original design for the popular children's tutorial center more than ten years ago and it's time for an upcycle, recycle, re-do of the Center and its pieces of recycled art. This is a work in progress and the Goddess will update you during each phase of the project. The overall design and recycled, decorative projects reflect the beauty of nature, camping, gardening, music, relaxing and reading.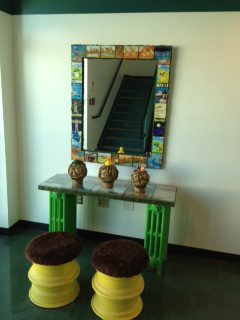 We have finished the entry, which showcases a huge mirror with a border of old, paper book covers from children's adventure books that are cut in a pattern that was fitted to a recycled wood frame. Moss was placed in between each square to create the illusion of a random brick-like design. The console table top was cut from an old door with the same tile pattern as the mirror frame. The tabletop sits on old radiators that are used as leg bases. Two fun, furry stools that represent animals in the wild, complete the trio.
Other projects the children will encounter before they move upstairs to the tutorial room are the "Down Home Gee-Tar" reminiscent of sitting around the campfire playing circle songs and "A Buccaneer's Box" a treasure box of bounty from outdoor adventures and travels and "Water Buddies," a trio of ducks that swim on top of the entryway console.
For new projects added to the Center … READ PART 2
Click for instructions and materials needed for:  Book Mirror and Console Table with Furry Stools, Water Buddies, Down Home Gee-Tar and Buccaneer's Box