Show Off Your Favorite Collectibles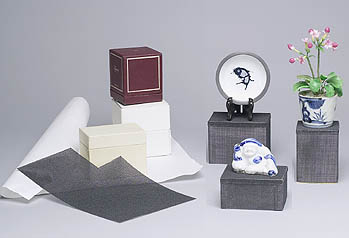 Exhibit your favorite collectibles on these unique mini pedestals. They can be grouped together to "show off" your small objects d'art in an unusual and dazzling display.
Materials Needed:
Heavy duty perfume boxes (i.e. Giorgio, Oscar de la Renta, Ralph Lauren – and be sure to select different heights to create interest)
Tacky white glue
Glue Stick
White butcher paper
Drywall screen, medium black sandpaper (has a great mesh texture)
Here's how:
Cut, fold and glue (using glue stick) white butcher paper to cover box.
Cut, fold and glue (with tacky white glue) sand paper over white butcher paper.
As with butcher paper, glue sides of box first and then glue top.
When gluing the sandpaper, overlap top edge about one-quarter inch.
Save