The Kitchen Katchall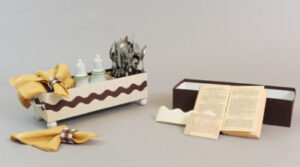 Make your own handy
and attractive "Kitchen Katchall"
to keep those oft-used items
close at hand.
Materials Needed:
A sturdy box (mine is 15 1/2″ wide x 5 1/2″ deep x 3 1/2″ h)
A half a piece of foam core board
Cookbook pages (mine is "The Williamsburg Art of Cooking")
Four cabinet knobs
Two cabinet handles
White Tacky glue
Light weight scallop edge design corrugated cardboard
Here's how:
Cut two pieces of the foam core board to the depth of the box for the dividers.
Cover and glue both the front, back, and the top edge of foam core with cookbook pages.
Glue and line interior of box with cookbook pages, overlapping the pages to show interest.
Glue two stripes of the light weight scallop edge design corrugated cardboard to the top and bottom edge of the exterior of box.
Screw in the four knobs at each of the corners of the bottom of the box for feet.
Screw in the two handles at each end of the box.
Place the covered foam core dividers into the box and glue into place (I divided my box up evenly).
Note: If you are afraid of spills and dirt in the box, cover the cookbook pages (interior and dividers) with clear contact paper so you can wipe it clean. (Do this before you glue in the dividers.)
Save
Save
Save