MEET CAROL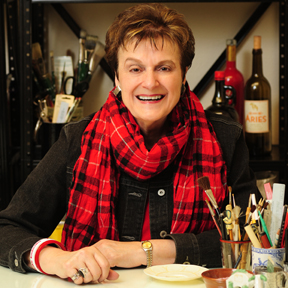 Carol Tanzi, also known as the GODDESS OF GARBAGE, is a high-energy, award-winning interior designer whose very life and work epitomizes her mission statement: "To educate, inform and show the world a new way to approach recycling using upcycling and reuse as a design style for interiors."
With a 25-year interior design background, Tanzi is determined to make a difference in the environment. Her ingenious approach of taking everyday recyclables and turning them into functional design items has become her passion.
Fueled by that passion, Carol has put her creative talents to work creating "Design It Yourself" projects. She can take an array of items from "garbage" and "old stuff around the house" and magically transform them into interesting and elegant additions to any home or office interior. Carol's entire room designs and stylish home and office accessories won't just surprise you; they'll dazzle you . . . while helping the environment to boot. As she likes to remind us, "All it takes is a little imagination!"
With a quick wit and infectious zeal for her work, Carol has received national recognition for her work and has appeared on numerous television and radio shows including CNN, HGTV-Smart Solutions, and Bay Area Focus. She's been a featured guest on shows such as The Rosie O'Donnell Show, Howie Mandell, Crook & Chase, and Patrick Phillips.
Carol's clever creations, along with her message about the importance of recycling, has been featured in many prestigious publications including: House Beautiful; Sunset Magazine; Designers West Magazine; The San Francisco Chronicle; The San Jose Mercury News, and 1001 Home Ideas, to mention a few. She also hosted her own television talk show, "ISSUES AND TOPICS" in the San Francisco Bay Area.
Always giving of her time and talents, Carol has received many accolades including induction into the San Mateo County Women's Hall of Fame for her outstanding achievement and contributions and Congressional Recognition for Outstanding and Invaluable Service to her community, with Outstanding Performance Awards for five consecutive years. Carol has also been lauded for her work on women's issues and environmental causes.
Carol Tanzi is a California State Certified Interior Designer, holding a BA in Interior Design from the University of San Jose and a California Teaching Credential in Interior Design. She is a San Francisco native and currently resides in Northern California.
As president of Carol A. Tanzi, A.S.I.D. & Associates, she has received the A.S.I.D. Presidential Citation for distinguished service to the society and profession of interior design for three consecutive years. She was also named one of the top ten "Superior Interior Designers of the San Francisco Bay Area" by the San Francisco Examiner newspaper.