Eye of Mother Nature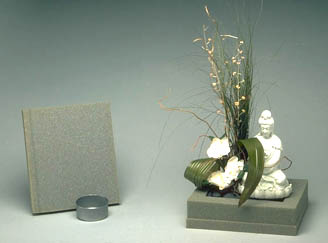 Whether you meditate or not, this zen-like flower arrangement will create a focal point and serene spot in any home or office setting, blending nature with the mind.
Materials Needed:
Tuna can
Oasis
Gray moss
Artificial leaves, flowers
Rocks (black)
Foam rubber sponge packing material
Twigs
Statue of your choice
Here's how:
Position tuna can off center of opening of packing material.
Put oasis in tuna can.
Arrange your twigs, leaves and flowers in tuna can, finishing off with moss.
Fill the area with rocks.
Place your stature off to one side sitting on the rocks.
Save