The Beauty of Bamboo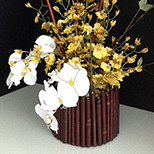 Bamboo is showing up everywhere these days, from flooring and furniture to wall coverings and cabinetry. And why not? Bamboo is a versatile, renewable and responsible alternative to hardwoods and synthetics.
The reason for bamboo's emerging popularity and trend in interior design is that it is a renewable source, absorbs greenhouse gases, has an amazing growth rate and very little waste (almost every part of the plant is used after harvesting). Bamboo can replace the use of wood for nearly every application. Paper, flooring, furniture, charcoal and building materials can be made from bamboo. Bamboo needs no fertilizer, pesticides or herbicides to thrive and can be grown in a variety of climates.
The Goddess is using bamboo in this elegant planter that celebrates Spring year round! I think we are all ready for Spring, especially our Eastern friends.
The Goddess is challenging you to submit your favorite project and photo that is made with bamboo to catan@earthlink.net by April 15th and the winner's project will be posted on the Goddess' website on Earth Day!
Materials Needed:
One-pound coffee can 5″ diameter and 6 1/4″ height
Bamboo cut in two different lengths; 16 cuts @ 6 1/2″ and 15 cut @ 7″ for a total of 31 bamboo sticks
Glue gun
A saw
Here's how:
Glue bamboo to coffee can, alternating different lengths.
It's as simple as that!