Stackable Snack Stand for Kids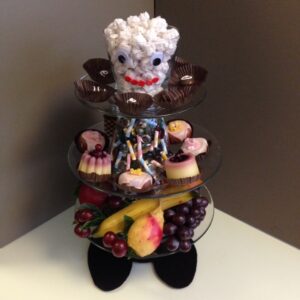 Surprise the kids when they see this three glass tier plate stand decorated with a happy face and black felt feet. All ages will smile and enjoy selecting from the sweet bounty of fruit, small cakes, candy, and popcorn.
Materials Needed:
---
E6000 glue
White glue
Clear glass pieces: 1 salad and 2 dinner plates, 2 tall glasses, 1 vase, 1 low bowl (Refer to picture)
Colorful glass pebbles
Colorful straws
Buttons
Wiggly eyes
Black felt
Lightweight cardboard
Scissors
Here's How:
Cut two feet out of cardboard and black felt
Glue black felt to cover cardboard
Glue wiggly eyes and buttons on vase to create a smiling face
Cut straws one inch in length
Fill two glasses with pebbles and straws
Put all the above aside
Using E6000 glue: start to build tier from the bottom up with low bowl for the base
( refer to picture)
Allow one hour in between each piece for drying
Your stand is ready for snacks!