Some Like it Hot as Cool Server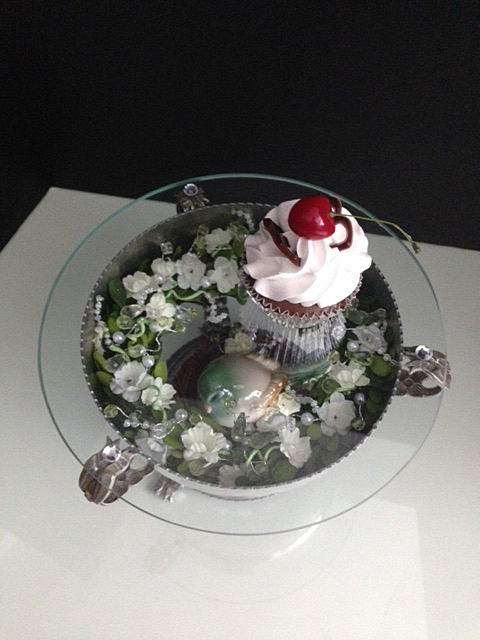 UPCYCLED CHAFING DISH BECOMES A COOL SERVER
Dating back to the 1500's (or earlier) the chafing dish was used to heat foods that required gentle cooking such as fish, cream or eggs that were originally heated with charcoal in a brazier. It could be used at the table or for keeping food warm at a buffet (think modern day weddings or hotel buffets that use large chafing dishes to keep food warm).
Many antique chafing dishes were made of ceramic. In England silver dishes without handles are mentioned in the reign of Queen Anne; wooden balls kept the heat of the charcoal in a pierced container. Chafing dishes with handles were found in the reign of George II and were inventoried among a silver collection in 1728 in the American colonies. In the late 19th Century "chafing dish" suppers became popular and special chafing dish cookbooks appeared from the 1880's including Fanny Farmer's Chafing Dish Possibilities published in Boston in 1898.
Modern chafing dishes are made of light metal or ceramic casseroles with handles, sometimes covered with a Pryrex lid.
I found a lovely Rodney Kent vintage, hand wrought, footed silver dish that I am using for this project. Upcycled as a stylish stand for presentation of sweets or cakes, it reveals a beautiful inner wreath that is exposed as cupcakes are whisked away or a cake is sliced and served.
Materials:
Chafing dish shell
Round glass to fit over top of chafing dish (mine is 9″diameter, professionally cut)
Bird and Nest to fit base
Small, artificial flowers
Beads, pearls, 3 rhinestones
Green wreath (mine is boxwood)
Hot Glue
Here's How:
Decorate the wreath with beads and pearls.
Glue bird to nest and decorate with more beads and pearls.
Glue nest to base of dish.
Glue wreath into well of dish.
Glue glass to three handles of dish.
Glue a rhinestone to glass at top of each handle.
Save