Snowman Sculpture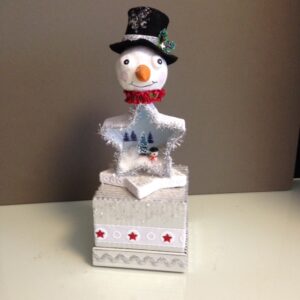 This snowman's star really shines bright when he dreams of being out in the snow covered forest standing near a pine tree hoping the children come by to sing and dance around him. Ah,- here they come – love, joy, and happiness.
Materials Needed:
---
Creative paper clay
Paint: white, black, orange
Ribbon: green & red, white
Silver fringe, braid, rick rack
Magazine picture scaled to fit inside star box
Tiny tree, snowman
Cotton ball
Holly leaves, red berries
Star box, square box
White glue
Glue gun/ sticks
Red stars (optional)
Here's How:
Refer to picture
Invert star box lid, & square box & lid
Form head with nose, paint face white
Paint star box white
Glue 1/4″ ribbon around star box
Cut & glue small picture to fit inside star box
Glue fringe around design of star shape
Arrange cotton & glue to bottom of inside of star box
Glue tiny tree & snowman into place
Wrap & glue white (3/4″ ribbon) around square box
Glue red stars to ribbon(optional)
Glue square box bottom to lid, then glue silver rick rack to lid
Glue star box to square box
Gather red ribbon & glue around snowman's neck
Cut & glue top hat out of black felt
Trim with silver trim, & holly
Glue head to top of star box
I'm currently working on a book titled "Retail Redux." ( 50 DIY Upcycled Projects for Pennies)
Check out samples on my website.