See the World Through a Child's Eye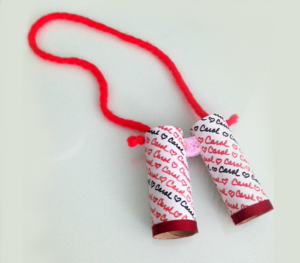 Give a kid a pair of binoculars and let their imaginations run wild… see what they see!
Lions and tigers and bears oh my! Birds and beasts and stars in the sky. Take these fun binoculars on
a camping trip or to the beach and keep the kids busy hours on end for tons of summer fun.
And, this is a great teaching project for recycling those cardboard toilet paper rolls.
Materials Needed:
2 Toilet Paper tubes
White glue
Rectangular sponge
White sheet of paper
Gift wrap yarn
Color Sharpie or Crayon
Single hole punch 1/4″
wide ribbon
Here's How:
Cut two sheets of paper to fit TP tubes
Print or write child's name diagonally on the white sheet of paper
Glue each sheet to TP tube
Glue 1/4″ ribbon to bottom edge of TP tube
Cut a one-inch square piece from the sponge
Glue two sides of sponge to each inside upper edge of TP tubes
Punch holes on each upper outside ends of TP tubes
Pull gift yarn through and knot at ends
Save
Save
Save
Save