See: Inside the Box Custom Tray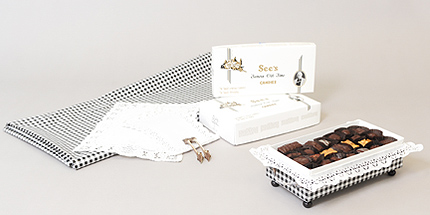 A box of candy (See's candy is my favorite) is always a great gift for any occasion. What about a box of candy with its own custom-designed tray? Usually the box is opened, passed around, and then placed on the table. Present the candy in a more stylish way by having a ready-made decorative tray. No candy dish is needed when you have an original sweet treat tray like this!
Materials Needed:
1 two pound top (empty, of course)
1 one pound bottom (I used See's Candy boxes, but any candy boxes will do)
A pair of handles
4 small knobs
2 large white paper lace doily place mat 10″ x 14″ approx.
2 medium white paper lace doily place mat 6″ x 10″ approx.
Black and white vinyl checker board fabric 1/2 yard
White cord
Tacky glue
Scissors
White paint for antiquing handles (optional)
Here's how:
Using the vinyl fabric, cover and glue end of the box
Using one piece of vinyl fabric, cover and glue two other sides and bottom of box
Screw two handles on each end of box
Screw four knobs at box corners on bottom of box
Cut edge of doily (medium), glue all around top edge of box, allowing doily to hang over box edge onto vinyl
Interior of box
Line all four sides with the center of medium doily
Cover and glue one pound bottom with center portion of large doily
Invert one pound box bottom and glue inside of top of two pound box
Glue white cord around inside sides of box for a finished look.
Save