Route 66 Not Taken for Extra Seating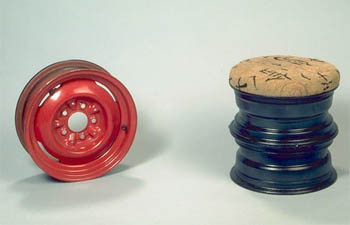 These wheels don't need a chassis to hit the highway. Just roll them into your home and use for extra seating in the den, office or sitting room. What a ride!
Materials Needed:
1/2 yard 54″ wide fabric
Car wheel rim
Foam rubber
Plywood round; 1/2 inch thick
Black spray paint
Welding equipment (you can have a shop do this part)
Here's how:
Weld two car wheel rims together.
Spray paint the rims black (or color of your choice).
Cut plywood and foam rubber.
Wrap fabric around round plywood and staple to bottom.
Place plywood/cushion top into opening.
Save