Riotous Retro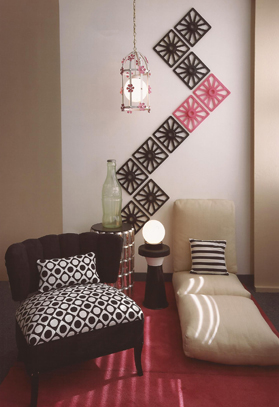 This 1940's quasi "Brentwood" chair is a take off on a William Haines chair. Haines gave up acting for decorating in the 1940's. The Coca-Cola pedestal pairs up with a large Coca-Cola bank bottle. The mod lamp sits on three pieces of plastic that were married to create a small table.
And, who would expect a 1970's hanging wrought iron flower fixture, re-sprayed with coordinating colors could find a perfect setting? The geometric squares hanging on the back wall were parts of an ATM machine, when it was in its infancy.
By painting the squares two colors and creating a graphic design, it repeated many of the existing patterns being used in this setting.