Ring 'Round the Table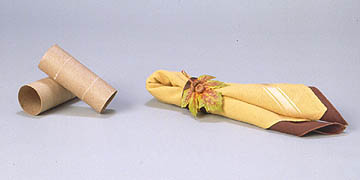 Even the Pilgrims would envy a Thanksgiving table setting adorned with The Goddess' festive napkin rings. Decorated with autumn leaves and acorns, your guests will never know the design started from recycled toilet paper tubes!
Materials Needed:
Grosgrain Ribbon – (Mine was 1 1/2 inches wide)
Cardboard Tubes from Toilet Paper
Cotton Fabric for Interior of Ring
Decorative Braid or Trim for Exterior of Ring
1/4 inch decorative braid
A Leaf (mine is artificial)
Acorns
White Glue
Masking Tape
Scissor
Here's how:
Choose ribbon and measure the width. Cut your tube to the width of the ribbon. Cut the tube ring vertically, end to end and cut fabric to length, leaving approximately 1/2 inch wider than width of the tube, so you can feed the edges over from the inside to the front of the tube. Carefully glue fabric to inside of tube, feed edges over and glue to outside bottom and top edge. Always use just enough glue — a thin, even coat is all you need.
Close your napkin ring together at the ends with a piece of masking tape, making a nice, clean joint. Cut your braid to length. Spread a thin, even bead of glue on the upper and lower edges of the ring. Carefully begin to glue your braid to outside of the napkin ring at the seam and rotate the ring slowly. Continue to rotate until you complete the circle, slowly and neatly. Let dry. Place cloth napkin in ring, place on table, stand back and admire your work!
Save
Save