Recycled Respite
The Goddess of Garbage Creates An Elegant & Hip Living Space With Other People's Throwaways!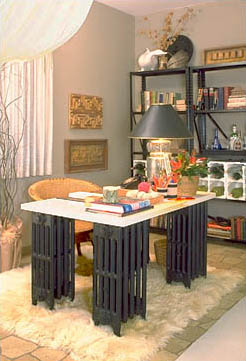 South San Francisco, CA . . .Would you like to "hip up" your home decor, but are a little short on cash? Once again, award-winning interior designer Carol Tanzi, better known as "The Goddess of Garbage" comes to the rescue. Tanzi has really outdone herself this time by designing an entire studio apartment with, that's right, GARBAGE.
Imagine having the latest and most creative home design while helping the environment. It's fun to do and there's no damage to your bank account, in fact, it can be done almost FREE. With 30 years of interior design experience, "The Goddess of Garbage" knows the secrets and wants to share them with you. Tanzi points out, "People don't realize how many great things can be found free in the most unusual places."
For example: Your home office looks "tired" and you want a new look. For her studio apartment, "The Goddess" headed straight to a scavenger company and picked up a couple of old radiators, then to a lumber yard requesting scraps, then on to a glass company picking up more of their garbage. PRICE: ZERO DOLLARS to you and the companies are glad to get rid of it.
Carol says simply: "Just look in the local yellow pages and find out where the scavenger facilities are, they will be happy to point you to their garbage!" With the Goddess of Garbage's special touches, painted radiators and lacquered lumber become a great new desk. Pieces of metal screwed together become bookcases and the final touch is a great area rug that was a carpet remnant. Voila. . .a new home office. The Goddess of Garbage picked up other items on her venture, like wheel rims used for stools or a coffee table. An old garbage can painted black transforms into a dining room table; a mirror framed in discarded wood and covered with Asian newspaper and artifacts becomes the centerpiece of the living area.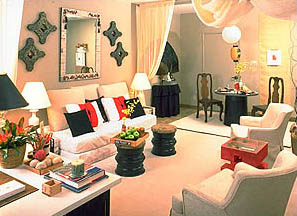 The Goddess of Garbage has put together this entire studio apartment from her creative garbage collection using styrofoam for decorative wall pieces and wine racks, heavy-duty, covered boxes for end tables and slipcovered chairs and old lamps to create this masterpiece called the RECYCLED RESPITE.
A Special Thanks to Companies and Friends Who Believe in Re-Use and Recycling
South San Francisco Scavenger Company
Teresa Grosso
Dan and Sandy Newton
The Jim Ruane Company
Sierra Design Upholstery
JC Upholstery & Carpet Cleaning
Brunswig & Fils Fabrics
Select Carpets
Alan Heyman Slipcovers
Frantz & Judy Johnson
Terry Rasmussen
Anne Fuller
Margaret Handelman
Rosanne Gould
Capps Glass
Mark Vickers
Jo Lynn Werner