Recycled Respite II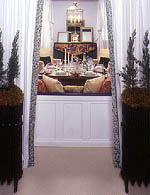 San Francisco, CA . . . Have you always dreamed of redecorating but thought "No way, I can't afford it." Well it's time to think again! In fact, you can do it yourself with a little help from GOODWILL, very little cash and expert advice from Award Winning Interior Designer Carol Tanzi, better known as THE GODDESS OF GARBAGE.
Imagine using things that others throw in the trash or just give away to redecorate your home or apartment? Sound a little crazy? "Not at all," says Tanzi. "I want to show everyone how easy and economical it can be." Using what The Goddess calls "recyclized and designized" items, she creates beautiful, useful and practical pieces that are sure to give any living space a new look.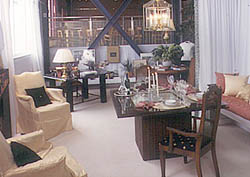 "Seeing is believing" as the old saying goes, so The Goddess of Garbage took a 580 square-foot space at Goodwill in San Francisco, used her tricks of the trade, and turned it into a stunning place anyone would be proud to call home.
"I found so many great things at Goodwill stores all over the Bay Area. Items are extremely inexpensive and knowing that you are supporting and using home furnishings from non-profits just feels good!"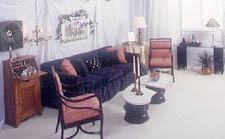 Living Room/Dining Room
Unique and beautiful dining table made from the interior panels and ceiling of an old elevator Tanzi found in an industrial company's trash bin. Sofas, chairs and accessories are from Goodwill.
Library Area
Library table base is made from a 55-gallon drum, cut, antiqued, then washed with green paint. The round, wood tabletop is refinished in dark walnut. A shelf running the full length of one wall is made from junk lumber. A desk made from a recycled slab of marble using fusion metal boxes as legs, was found at Builder's Resources, another San Francisco non-profit.Says Tanzi, "Other people's garbage can be your bag of tricks when creating a personal style that's guaranteed to dazzle your friends and family!"
Special Thanks to:
Goodwill Industries
Dan & Sandy Newton
David Hatfield
Westin Airport San Francisco
Alan Heyman Slipcovers
V. Fontana & Company/marble
Builders Resources/Matthew Levesque/banquette
East Bay Depot For Creative Reuse, Inc.
Loretta Nussbaum (fireplace mantel finish)
South San Francisco Scavenger Company
Sierra Design Upholstery
Jaclyn Designs/faux finish
DJ Capps/glass and mirror
Karen Key
Masland Carpet
Martha Blanchfield
Ivonne Alunni
Studio B/frames
Margaret Handelman
Fisicaro-Giusti LTD/A Landscape Concern
Norman Bernie/fabrics