Pop Goes the New Year!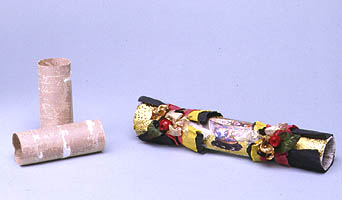 A cracker without a pop, but still creates a big bang. A perfect party favor for the New Year! Toilet paper tubes, crepe paper, gold ribbon and doilies transform into a fun, colorful attraction on your table, with a surprise party favor inside.
Materials Needed:
2 toilet paper tubes
Gold doilies
Red, black, yellow crepe paper
Tape
Chinese newspaper
Glue Mini-artificial pomegranates w/leaves
Scissors
French wire gold ribbon
Chinese magazine cut-out
Here's how:
Cut one TP tube in half for the ends of cracker.
Cover all tubes with Chinese newspaper.
Cut a small door in back of one tube to put party favor in.
Tape the two halves to each end of whole TP tube.
Cut gold doilies into pie shape wedges and glue on top of each half TP.
Take 3 colors of crepe paper and wrap each end, hold in place,
And wrap gold ribbons with pomegranate and leaf.
Glue gold doily in middle of TP.
Glue Chinese magazine cut-out in middle over gold doily.
Save
Save