Colorful Tabletop Accessory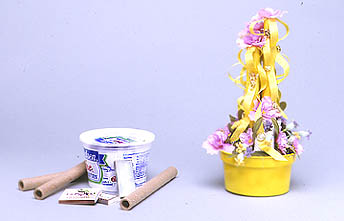 A colorful tabletop accessory that's easy for kids to make for Mom. A cottage cheese container, covered cardboard fax dowels, some ground cover, ribbons, covered matchbook boxes and charms transform into a great cache pot that Mom will love.
Materials Needed:
Plastic flower pot or cottage cheese container
Spray paint (mine is yellow)
Scissors
Wire cutters
Hot glue gun
Ribbon (mine is yellow)
3 fax cardboard dowels 1/4 inch thick
Artificial flowers and leaves (mine are yellow and purple)
Small gold-like buttons or charms
3 matchboxes
Small pattern tissue paper
Yellow crepe paper streamers
Oasis
Foliage groundcover
Here's how:
Spray plastic flowerpot
Put oasis in pot.
Cover with foliage.
Cover 3 fax cardboard dowels with yellow crepe paper.
Put covered 3 fax dowels into oasis in an arrangement of three, side by side
Cut strips of yellow ribbon and tuck and glue at inside top of dowels.
Cover matchboxes (wrap them as small gifts)
Glue them around 3 fax dowels.
Glue combination of flowers and leaves around bottom of dowels amid three small gifts.
Loop yellow ribbon from top and glue in place, glue charms on ribbon, which is attached to dowels.
Save
Save
Save