Knowledge is Power

This small entry only had room for a small table. A garbage can was cut in half, spray-painted black and topped with a remnant of marble.
Hanging above it is a wood framed mirror covered with stenciled letters on newspaper and book spines.
The marble statue, reminiscent of higher learning, perfectly complements the space.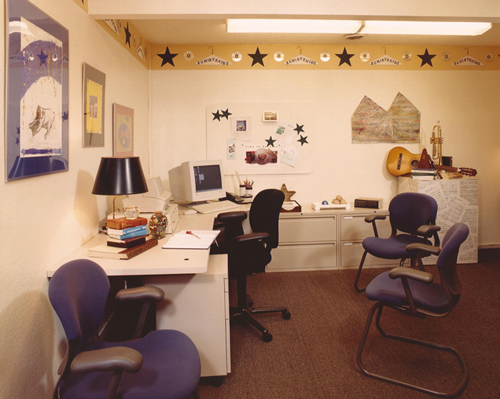 The principal's office itself had to be functional and well-defined with clean lines
and clutter free. The office is small and every inch of space had to be used to its highest potential. By law, the earthquake bin had to be readily accessible. The bin was stored in a large box-like pedestal covered with old sheet music that served as a clever display for several musical instruments.
The carpet and furniture were recycled and donated to the school. The room is detailed with a banded color contrast ceiling border of recyclized wire hangers, CDs, and stars (the school's logo).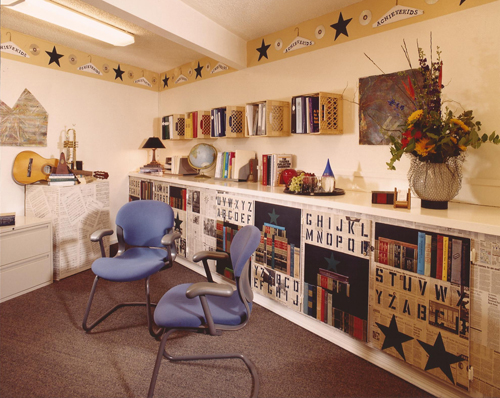 The sixteen-foot built-in cabinet is the focal point in the office. Keeping with the theme of the room, the Goddess of Garbage created and enhanced it with recyclable materials. The face of the cabinet was papered with newspaper and the doors were designed to look like shelves.
The book spines, newspaper with the alphabet stenciled on it, and the star logo were interspersed here and there. The extra book cubby holes over the counter are plastic milk boxes spray painted and geometrically placed on the long wall with some of the exceptional children's artwork. The vase of flowers is a white glass ball light fixture with chicken wire wrapped around it with a circular cylinder keeping it upright.