It's That Time of Year Again
The holidays are upon us and while getting everything ready can be stressful, making your own decorations can be a family affair that is fun and stress-busting for all. Here are two of my favorite decorations, one for the door and one for the table. All upcycled, recycled and re-used. Check back next week for a special gift box to make for that special person and the following week two more last minute projects.
Happy Holidays from the Goddess!
Wired for Light Table Ornament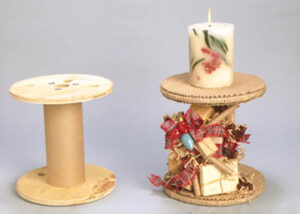 A "shining star," this festive table ornament accented with old fashioned Christmas tree lights and a beautiful scented candle will be an "electrifying" conversation piece for years to come. Use as a centerpiece or on a side table.
Materials Needed:
A Wood or Cardboard Spool (mine was used for audio-visual wire — measurement: Height 11 3/4 inches x 10 1/2 inches diameter)
Corrugated Cardboard
Brown Shipping Paper
Hot Glue Gun
Six Small Natural Covered Boxes, Different Sizes (mine were jewelry and mini candy boxes)
Rafia
Old Fashioned Christmas Tree Color Lights (one large green, two small red)
Scissor
Pencil
Staple Gun
Natural Craft Paper Excelsior
Small Pine Cones
Three Small Cardboard Dowels from Fax Paper Rolls
Candle of Your Choice
Red and Green Plaid Wire Ribbon
Here's how:
Step A
Out of corrugated cardboard cut two circles the diameter of your spool, also cut two more circles for underneath the top and lower bottom of spool. Remember, these two circles have the center cut out to accommodate the center of spool.
Cut: Two 1 3/4 inch wide strips of corrugated cardboard for edges (cut vertically for a more interesting effect).
Cut: Two small fan shape pieces (corrugated cardboard) for inserts to tuck between the circular disks (for underneath and bottom of spool).
Cut: One (Mine is 9 1/2 inches in height) piece of corrugated cardboard vertically to wrap around column stem of spool.
Step B
Staple your two 1 3/4 inch wide strips to the edges (overlap edges and staple in place).
Glue one piece of corrugated cardbord vertically to wrap around the column stem of the spool.
Glue all four circles to the spool as explained in Step A..
Glue fan shape pieces to underneath and lower bottom of spool disk, then glue circular pieces to underneath top and bottom to overlap fan disk for a finished look.
The spool is now completely covered with corrugated cardboard.
Step C
Wrap any individual boxes with brown shipping paper if needed (try and find natural brown boxes).
Tie rafia around all boxes.
Stagger and stack your design of boxes going up the front of the column. Glue into place.
Place and glue into place the fax dowels. I criss-crossed three in front of the boxes for an interesting shape.
Tie ribbon around column and over boxes and dowels. Glue in place, if necessary.
Glue and tuck your excelsior in place.
Glue and place your mini pine cones in place.
Place your three light bulbs in a pleasant design in front of ribbon bow. Glue in place.
---
The Circle of Light Holiday Wreath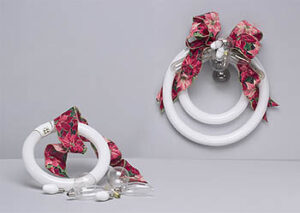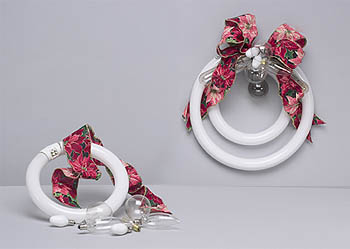 A collection of all different size light bulbs and some festive ribbon create a bright and cheery holiday wreath.
Light bulbs – all shapes and sizes, white and clear, including an 8″ and 12″ circular fluorescent
Hot glue gun
Ribbon
Here's how:
Glue small circular bulb into larger one.
Glue smaller light bulbs at the top of circular bulb in a design of your choice.
Tie and glue ribbon at top of collection of light bulbs.
Happy Holidays!!!!
Save