It Takes 2 to Tango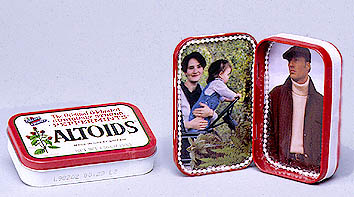 A recyclized, hinged double frame is the perfect keepsake. An empty ALTOIDS tin becomes the frame. A little spray paint, ribbon, mini pearls and photos of your sweetheart make a whimsical, romantic memory for your desk or bedside table.
Materials Needed:
Altoids tin
Glue stick
Mini pearls (a strand)
Spray paint red foam corkboard
Small white grosgrain ribbon
Scissors
White doily
Hot glue gun
Here's how:
Spray tin with red paint, let dry.
Glue small white grosgrain ribbon on exterior rim of tin.
Glue cut doily on 2 backs of tin.
Glue foam cork to fit inside of tin.
Cut photographs to fit inside of tin.
Glue photographs to foam corkboard.
Glue foam corkboard inside tin.
Using hot glue gun, glue strand of mini pearls to inside edge of tin.
Save