Holiday Dining at its Best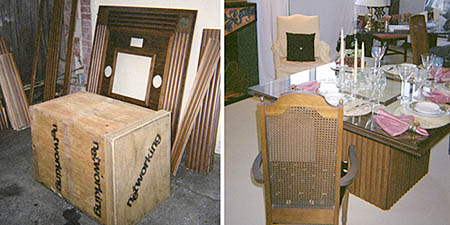 Move your chair closer to a one-of-a-kind dining room table. Be on the lookout for a special top and base that can be married together. I discovered pieces from an interior of an old mahogany elevator in a dumpster.
The ceiling became the table top. The open areas of the ceiling were filled in with wood and I painted a faux marble finish on top. I found a heavy duty wood box at a salvage yard, then wrapped the wood panels around it to create a base for the table. I added a glass top to protect the faux finish and wood top. Now sit down and enjoy a delicious holiday meal with your friends and family.
Materials Needed:
Wood
Paint — in three or four colors for faux finish
Nails
Hammer
Saw