Heart to Heart Valentine Rings
♥♥♥♥♥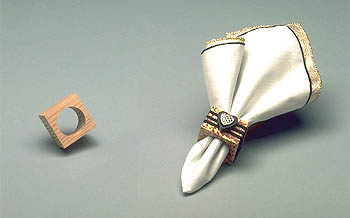 A Valentine's Day celebration will be more lovable with a set of these one-of-a-kind napkin rings. Whether it's a heart-to-heart with your sweetie over an intimate dinner at home or a festive dinner party for cherished friends, everyone will know you are a romantic at heart with your own Valentine creation.
Materials Needed:
2 1/2″ square wood chucks (scraps of wood)
Red tissue paper
Gold acrylic paint
Small natural sponge
Heart button
Wood heart
Black acrylic paint
Paintbrush
Glue gun
White glue
Black braid
Here's how:
Bore a hole through the 2 1/2″ wood chuck.
Crumble tissue paper, glue with white glue and water all over square (inside & outside).
Let dry.
Sponge on gold paint, let dry.
Using white glue, place black braid (three rows) on tissue paper.
Paint wood heart black and let dry. Using glue gun, affix onto three rows of black braid.
Glue heart button onto wood black heart.
Save