Getting Antsy?
Try these GREAT GREEN ACTIVITIES before the kids head back to school.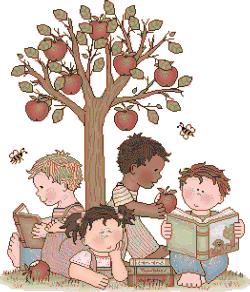 NAT GEO
Do you have a stack of old National Geographic magazines hanging around? They are easy to find at Used Book stores, Goodwill, thrift stores and library sales. Gather the kids and sit under a large, shade tree and enjoy exploring the pages of National Geographic. Try an African Safari, or go deep under the sea or climb a mountain. Learn about different cultures and strange animals from faraway lands and flora from around the world. Start a dialog about what is different from our way of life and theirs. Everyone will enjoy this very social and entertaining learning experience.
MOVIE NIGHT
During a nice warm summer evening, relax on your patio or in the back yard and watch nature movies or documentaries that teach children about the environment whether its geography, flora and fauna or learning about ways to conserve and protect the environment .You can serve hot dogs, burgers, greens and popcorn. Finish off the meal with a juicy, ripe watermelon. Find free movies at the local library!
RECYCLE, RECYLE, RECYLE
Plan an excursion to a recycling center to show how the recycling process really works, from drop off to sorting to shipment for re-use. Many recycling centers now have goats and pigs that the kids can observe. Many local trash companies have designated tours of their facilities.
A GREEN THUMB
Spend a morning in the garden working with the children weeding, planting and composting. Teach them how to care for plants that they can eat at a healthy harvest in the fall. Many towns now have community gardens where you can volunteer to help with planting and harvest. Plant some pumpkins and harvest them at Halloween to make your own special Jack- o-Lantern.
CRAFTS AND SNACKS OUTDOORS
Find a picnic table in the park or at the beach and have an outdoor craft day. Show the kids howto recycle household discards by making toys. You can find a guitar made from a cereal box, a mini elephant made from a plastic water bottle and binoculars made from discarded cardboard toilet paper tubes. Then go for a nature walk or a refreshing swim.
All of these projects are on my Web site… www.goddessofgarbage.com
WALK IT OFF
Take an outdoor hike on a nature trail picking up Mother Nature's discards. Have the children create a nature story board with all their findings that can hang on their bedroom wall or take to "Show and Tell" when school is back in session.
FARM FRESH
Go on a field trip to an orchard and pick fresh fruit. Many farms and ranches have organized tours so kids can learn about farm life and where their food comes from. When was last time you had a juicy peach or cherry picked straight from the tree!
And don't forget……"Use It, Wear It Out, Make It Do or Do Without."
Have a great summer!
THE GODDESS OF GARBAGE

If you have any ideas you would like to share for summer activities for kids, please feel free to comment on my blog.
Save
Save