Fabulous French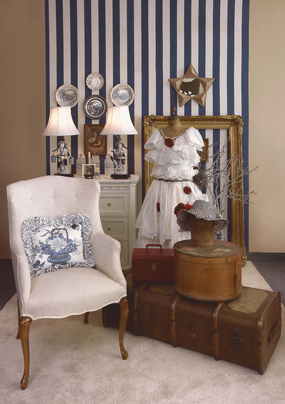 This vignette showcases the Goddess of Garbage's exclusive antebellum dress that she wears on special occasions. The dress is made out of colored plastic bags in white, red and black. The bodice neckline and belt is trimmed with black plastic and rope twisted together. Red roses are scattered around the skirt half of the dress with one rose set in the middle of the bodice neckline.
Finds at Goodwill included a Louie XVI white chest with the Goddess's brush strokes of blue paint to add verve. Two rare blue and white Chinese figures were pressed into service for a pair of lamps.
Many of the smaller accessories on the chest, as well as the plates on the wall were also Goodwill discoveries. The star mirror was created from plywood, cardboard cabinet protectors and mirror. The travel accessories were gifts as well as the large gold-leaf French frame which was found in a friend's attic. That same friend also contributed the Louie XV chair. It was reupholstered in a discounted white floral cotton remnant.