Eclectic Electric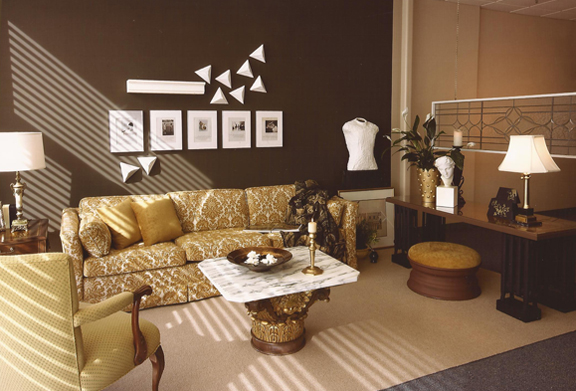 This living room is a perfect example of living with reuse and recyclized home furnishings at its best.
The console table under the leaded glass window is four old radiators attached to wood blocks with an etched glass top inserted in a frame that was made from a door.
A large round stool tucked below the console is a truck rim with a round upholstered cushion for additional sitting.
The 1975 classic tuxedo-back sofa is sitting in front of a Corinthian column crown which is being used as a base for a scrap of marble for a cocktail table.
Wall decorations are a combination of styrofoam pieces and pages pulled out of a magazine that are housed in discounted lucite box frames. The "bust" is a department store half torso with applied plaster of Paris on it to give it texture. It is hard to see, but the bust is sitting on a corrugated cardboard pedestal.
The arm chair, end table, lamps and many of the smaller accessories were selected from Goodwill. Discounted lamp shades were purchased.
To the left of the sofa (not shown above) is this creative three-tier shelf that was originally intended as a multi-cabinet case designed for a staircase. Unfortunately the cabinet shop made an error in measuring. But by adding two shelves and a broom handle for balance, the Goddess created a modern and unique bookcase.
Created as a fundraiser for The Mid-Peninsula Boys & Girls Show titled "Gatherings."