"Can I get a box for that?"
Remember when stores would give gift boxes during the Holidays? No longer…and who can afford professional gift wrapping these days? I solved the problem by designing a special signature gift box for that special person…or why not everyone on my list or yours? Added bonus: no wrapping!
Happy Holidays from the Goddess of Garbage!!!!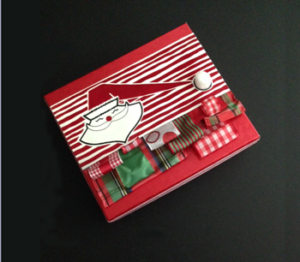 Here's How:
Cut card to fit box
Arrange the ribbons to enhance the card
Glue ribbons first, then the card to box
Glue Grograin around perimeter of edge of box
Glue Pom Pom to appropriate spot
Save
Save