Bamboo Sticks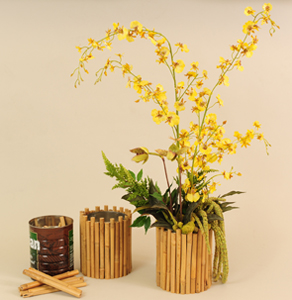 A sophisticated container for your creative flower/foliage arrangement that you collect from your garden. Be sure to save one pound coffee cans and bamboo cuttings for a chic cachepot (vase) for your table or mantle.
Materials Needed:
One-pound coffee can 5″ diameter and 6 1/4″ height
Bamboo cut in two different lengths; 16 cuts @ 6 1/2″ and 15 cut @ 7″ for a total of 31 bamboo sticks
Glue gun
A saw
Here's how:
Glue bamboo to coffee can, alternating different lengths.
It's as simple as that!
Save