Alluring Asian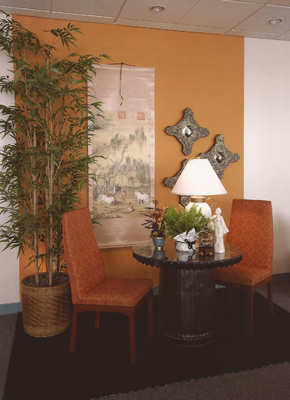 The 36-inch diameter table has old CDs on top and is splattered with gold and black paint. The base is a metal garbage can painted black. Both the edge of the table and bottom of the base are edged with black enameled scalloped cardboard.
This table would be a great game table for a family. A glass top protects it. The four plaques are styrofoam shapes covered in crushed black tissue paper and sponged with gold paint. A small piece of mirror was placed in the back to showcase the Chinese opera masks.
The two chairs were found on the curb, the scroll, lamp and smaller table accessories were found at a garage sale. Note: the 1940's white Asian figurine is a choice piece. The bamboo plant is the real thing!
Created as a fundraiser for The Mid-Peninsula Boys & Girls Show titled "Gatherings."
Save