A Circle of Gratitude
Thanksgiving has historically been a feast to celebrate the harvest since recorded time began. Ancient Greeks enjoyed a harvest festival called the Smophera. Ceres, the Roman goddess of harvest, had a festival called Cerelia that was celebrated on October 4th. In Old England, the autumnal feast and harvest was called Harvest Home.
In the United States, the 1621 Plymouth feast and thanksgiving was prompted by a good harvest. Pilgrims and Puritans who began emigrating from England in the 1620s and 1630s carried the tradition of Days of Fasting and Days of Thanksgiving with them to New England.
In September 1863 President Lincoln proclaimed the last Thursday of November as the official national holiday of thanksgiving in the United States. Thanksgiving is currently celebrated as a time for families and friends to gather and give thanks for food, health and good fortune.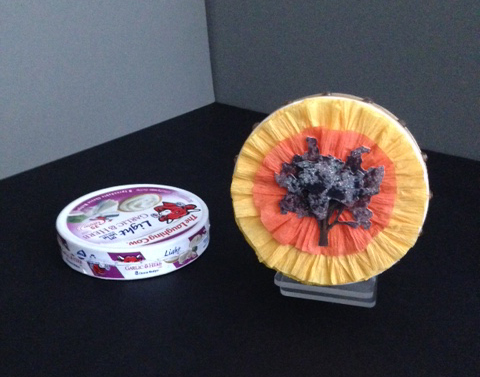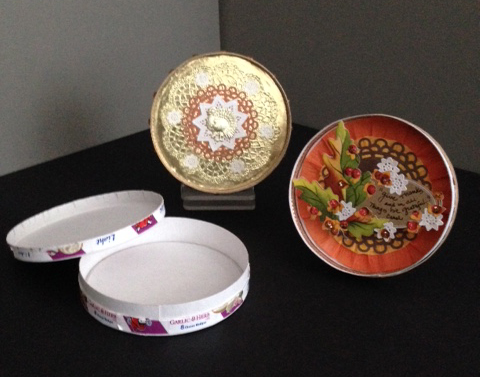 A round card springs up out of a box with a sentimental thought for all times, especially for a Thanksgiving Celebration. My message is "Give thanks and in all things be grateful".
Materials Needed:

Round box (Laughing Cow cheese box)

Crepe paper streamers (2 colors)

Paper cut out of foliage, doilies, gold paper turkey

Sticker (mine is a tree)

Ribbons (2 types)

A small spring  (from a ball point pen)

White glue

Felt (brown)

Gold glitter

Oval tag
Here 's How:
Interior of box:
Gather one orange and yellow streamer and form a circle
Glue gathered orange streamer to inside bottom of box
Cut one yellow streamer in half, gather and glue to larger orange one
Glue brown doily to bottom of box
Pull spring thru the middle of doily and bottom of box, tape to secure
Tape cut out and tag together to spring, so it pops out when lid is opened
Glue gold turkey to interior top of box
Exterior of box:
Gather both crepe papers and overlap them showing two colors
Glue them to top of box
Place and glue larger sticker (mine's a tree) in center
Glue ribbon around perimeter of box: interior and exterior
Save
Save
Save