A Christmas Card Collage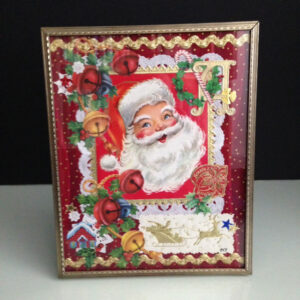 Have no space for a lot of Christmas decorations? This Christmas card collage housed in a 8×10 vintage 1950's metal frame is just right for you.
Materials Needed:
---
Vintage metal frame with easel attached
Vintage Christmas cards
Paper ephemera
Glue gun/sticks
White glue
Fabric
Scissors
Rick rack
Ribbon
Here's How:
Cut a piece of cardboard to fit frame
Cover it with fabric or paper
Center & glue card in middle of frame
Rearrange paper ephemera to enhance the center card
Glue all in place
Slip into frame
I'm currently working on a book titled "Retail Redux."
( 50 DIY Upcycled Projects for Pennies)
Check out samples on my website.