A Celebration Vignette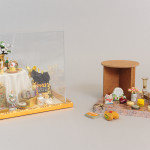 Ever get tired of dusting those smaller accessories? Now you can be a discerning collector and define your style by housing it all under an acrylic box.
Gather bits and pieces of memorabilia and create a celebration vignette for a special friend or yourself. The Mini showcase will be enjoyed by all every day.
Materials needed:
12″ square tile
Old frame moulding recut
Small collectibles
Acrylic box ( 11-3/4″ square x 13″ high)
Mini boxes
Fabric
Glue gun
Pearls,beads
Paper,ribbon,trim
Foam core board
Scissors
Here's how:
Frame tile for base
Cut the round table and legs out of foam cord (5-1/2″ diameter x 4-1/2″ high)
Cut out fabric for tablecloth
Glue trim or ribbon to edge of cloth
Wrap small boxes with paper and ribbon
Arrange the table accessories,glue to table
Arrange and glue small wrapped boxes with additional accessories around the skirted tablecloth
Glue pearls and beads among the mini boxes
Place acrylic box over arrangement (I usually have these boxes made out of scrap plastic)
Save