4R Learning Center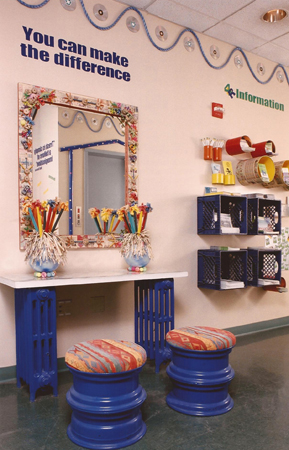 The Goddess of Garbage created a welcoming entry for the 4R Learning Center to show children familiar things that can be recycled. The upstairs is the tutorial area that exhibits an interactive display.
The two painted wheel rims stools, with wild upholstered cushions sit in front of a radiator based console table. The top is half of a door with CDs glued to it and protected by a piece of glass.
Sitting on top are two splattered blue paint opaque glass globes (light fixtures) with cut newspaper hanging over their edges and colorful tubes shooting out with crepe paper tops. The mounts are jack balls wired and glued in a circular form together to keep them upright. Above the console is a newspaper covered wood frame mirror. Tinker toys, small dinosaurs, cars and plastic jacks are trimmings on the frame.
To house the handouts for the children, I used plastic milk cartons in their original color and ice cream cylinders covered in colored newspaper with painted interiors. Colorfully painted little tin cans were used to hold the small items. A metal sheet was hung to display give away magnets for the children. Crowning the entire room is a ceiling border decorated with blue rope and CDs.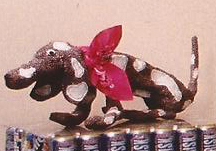 Woofy-the Whimsical Bow-Wow
Every child who enters the lobby gravitates to him immediately. The Goddess of Garbage has to admit, Woofy is one of her favorites too. This paper mache dog sits on top of a pedestal of aluminum cans. He is a star and oversees everything including a small styrofoam table for the smaller children to play on.
In the corner, cardboard tubes are painted and dotted to outline the upstairs elevator going to the tutorial center itself.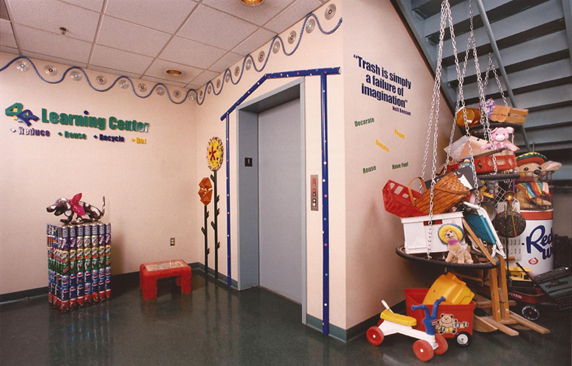 Growing right next to the elevator are two huge flowers consisting of cardboard tubes, cabinet corner protectors, paint, mini yard pom-poms, newspaper and a hubcap.
Instead of taking the elevator, the children can exercise walking up the stairs while viewing three old bicycle wheels hung at different heights from chains teaching them the different and amazing ways they can recycle.