A Dollar Store Pumpkin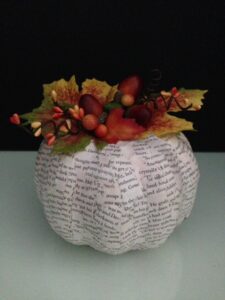 Autumn has officially arrived …pumpkin spice lattes are everywhere, colorful leaves are falling and dancing in the chilly breeze, football season is in full swing and, of course, October means Halloween.
I am starting to add pieces of Fall décor here and there in my home and also integrating some of my favorite Halloween decorations early in the month. Here are two easy, DIY projects to get ready to greet the spirit of Halloween.
A Dollar Store Pumpkin
A crafter friend of mine brought me a plastic pumpkin to decorate. Using white glue, I covered it with torn book pages and arranged artificial leaves, acorns, and berries around the stem. You can orange-wash over the paper if you like. This is a quick, simple and easy project and much less expensive than the popular glass pumpkins in vogue right now. Use as a centerpiece or just place around the house.
A Witchy Fashionista
Bits & pieces of tulle, ribbon, rhinestones and a crepe paper hat can transform any vintage doll into a Witchy Fashionista. Use your own creativity and mix of colors and fabric to design a trendy costume for a vintage doll.
Save
Save
Save
Save